Nobility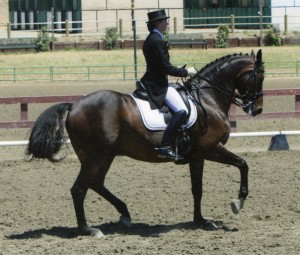 Noah was one of Kristen's first partners and she has owned him since he was only six years old. Born in 1998, this Hanoverian gelding retired from competing in 2014. Together Noah and Kristen showed through the Grand Prix Level and received many notable accolades.
Kristen found Noah when she began working with longtime clients Perris Fiori and her mother, Robin See. They had originally purchased Noah for Perris as a five-year-old but unfortunately the partnership did not work out and they decided to sell him. After thinking they had found him the right home, he failed to pass his pre-purchase examination. The veterinarian diagnosed Noah with high ringbone in both front ankles in addition to serious navicular changes, making him very difficult to sell.
Kristen bought Noah for $10 thinking he would make a nice Fourth Level/Prix St. Georges horse that she could then lease to students. Noah, however, had different ideas and became her main competition horse, giving absolutely 100%. Kristen owes the world to Noah – he has the biggest heart of any horse she has ever worked with and will always have a very special place in Kristen's heart.
Noah competing in the Grand Prix at Rancho Murieta in 2013 – winning the class!
---
Marimar Estate's Nambe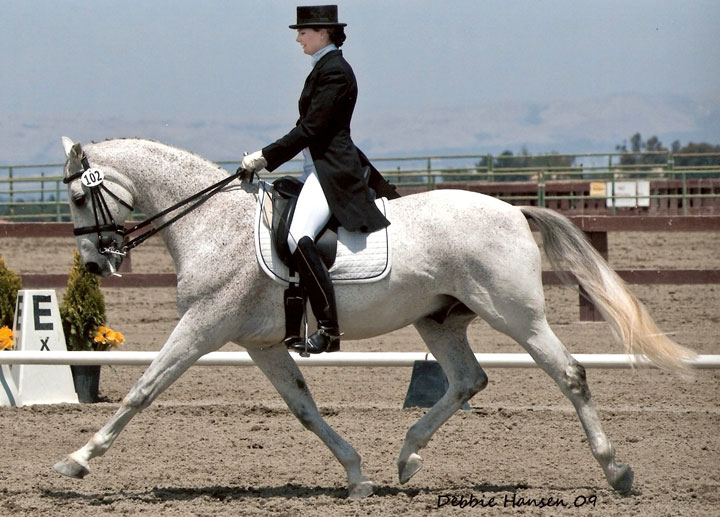 Kristen and owner Marimar Torres lost Nambe in 2014; he is sadly missed. Kristen found the 1995 Dutch Warmblood gelding originally for Marimar to ride. Due to her schedule, she was unable to take advantage of such a wonderful horse. Instead, she sponsored Kristen to compete on him. Nambe served as the class clown of the barn. He even had part of his left ear removed by a stallion who did not appreciate Nambe's playfulness. Nothing was safe from his mouth – tack, people, clothing, – he chewed on anything he could reach.
In the last year, Nambe was schooling parts of Grand Prix and showed through Intermediaire I. Kristen found that he taught her the value of patience. If he disagreed with her aids, he would grab the bit, stick his head straight up, and then keep on going as fast as possible. They had a great partnership and achieved successes in the FEI ring, including numerous high point awards at Prix St. Georges and Intermediaire I. He was an amazing horse who loved competing; Nambe knew horse shows meant he could show off and get lots of treats!
Showing PSG at Murieta:

---
Akrobat
Akrobat was a 2008 Trakhner gelding owned by Marimar Torres who sadly passed away in February 2016.
Akrobat in a clinic with Guenter Seidel: